<! MP3 04/22/09 > <! update 04/22/09 > <! outside 00/00/00 > <! pix 00/00/00 > <! icons 04/09/11 >
---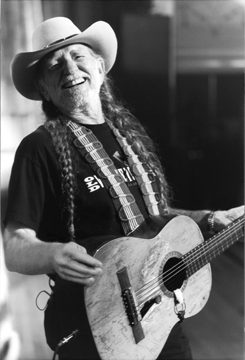 Lanky and grizzled, Willie Nelson is the original country "outlaw," a highly successful songwriter who ditched Nashville for the dim lights of Austin, so that he could make his own records the way he wanted to. This page highlights his best-of collections and links to other Willie-related websites... Other records are reviewed on the pages below:
---
Willie Nelson: The 1960s & '70s | 1980s | 1990s & '00s | Best-Ofs & Links
---

Willie Nelson "Greatest Hits (And Some That Will Be)" (Columbia, 1981)



For many years, Willie's standard-issue best-of package during his post-Stardust mega-stardom years. It's good stuff, with a few new tunes added in for good measure.
Willie Nelson "The Essential Willie Nelson" (BMG/RCA, 1995)


Willie Nelson "Revolutions Of Time -- The Journey: 1975-1993" (Sony, 1995)


A 3-CD box set that ably covers Willie's years on Columbia and CBS...
Willie Nelson "RCA Country Legends" (BMG/RCA, 2002)



Willie Nelson "The Essential Willie Nelson" (Sony Legacy, 2003)



A nice 2-CD set, covering Willie's work on Columbia and other Sony imprints... You can quibble about the song selection (do we really need to hear "Stay All Night" again?) but the calibre of the material is all first-rate. A few semi-rarities and a new unreleased track (a duet with Steven Tyler) may make this tempting to those who already have all the best Willie albums; for newcomers, this is a pretty perfect introduction. Recommended!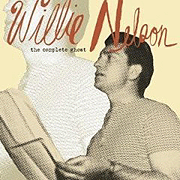 Willie Nelson "The Ghost" (Masked Weasel, 2006)


His history as a hard-working craftsman, plugging away in the bowels of Nashville is well-known, and this 3-CD set of early recordings, demos and such from the early 1960s, before he broke away from Music City's orbit, is an illuminating look at Willie's early years. Especially interesting are the lazy blues jams, showing just how far back his genre-busting inclinations go... There are also some tracks from the early '70s, some songs that are well-known and others that are not, and some overlap with other Willie discs. But this set has a nice cohesion to it, exploring the ragged underbelly of Willie's work, and stands quite nicely on its own. Also available as individual discs -- definitely worth checking out!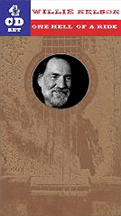 Willie Nelson "One Hell Of A Ride" (Box Set) (Sony-BMG Legacy, 2008)



To be sure, there's no shortage of Willie Nelson best-ofs out there, but this far-flung 4-CD set is a real doozy. It draws on Willie's work from a number of labels, including former rivals RCA and Columbia (now both part of Sony-BMG) as well as early '60s recordings on Liberty (owned by EMI), a couple of tracks from his lone mid-period album for Atlantic and various offerings on Universal over the last ten years. It's a fitting tribute to Nelson, a prolific trendsetter and stubborn iconoclast whose seventy-fifth birthday coincides with the album's release. The collection starts out with a prehistoric demo that Willie made around 1954 or '55, back before his early success as the songwriter of hits such as "Crazy" and "Nite Life..." Even back then, working in the real hillbilly days when Nashville was only beginning to consolidate its power as the center of a new country music industry, Willie had an odd, exceptional air about him. His phrasing was already a little bit weird and his sense of rhythm was kinda cock-eyed. This collection moves from early hillbilly gems such as "No Place For Me" (an indie single that Willie self-released back in 1957), into his early work for RCA, a period that yields several off-the-radar gems, even though Nelson found the Nashville studio system creatively frustrating... The playlists of this four CD set are not organized in strictly chronological order -- there's a much-welcome, intelligently thought-out aesthetic at play, which can pair a song from one era with another that compliments it in interesting ways. The big hits are there (although not all of them) but they are sandwiched between less well-known material that more fully illuminates Nelson's creative trajectories. After the "outlaw" era, Discs Three and Four take us into Willie's years of superstardom, and his long run of reinterpreting old standards and teaming up with old pals and heroes, first on a series of duet albums, and then on the Highwaymen records. It's all dutifully sampled, although nothing touches the transcendent beauty of "Blue Eyes Crying In The Rain," which is one of the most brilliant works of country revivalism, and possibly Nelson's finest moment as a song stylist: even with all the other great songs included here, that's the one song that I find myself playing over and over again, even after all these years. The packaging is pretty cool, too -- it's eco-friendly, with soft cardboard slipcases instead of plastic trays, so it may feel a little unusual at first... But the real treat is the glossy booklet, which has a wealth of super-groovy photographs taken at all stages of Nelson's career, as well as pictures of all of his LPs ever released, which is also pretty neat. Happy Birthday, Willie!! Thanks for all the great gifts!

Willie Nelson "Naked Willie" (Sony-BMG-Legacy, 2009)



("Un-Produced" by Mickey Raphael)
Somewhere -- I suppose in the 1970s, certainly by the 1980s -- the concept of "overproduced" music gained currency as a way to criticize overly-commercialized recordings... It was apt for a variety of styles: soul music had given way to disco, rock morphed into new wave while pop devolved into AOR, jazz went "smooth" and country -- mimicking the lavish pop vocals sound of the '50s and '60s -- became "countrypolitan," with orchestral arrangements and unnecessary vocal choruses layered on top of the simplest of songs. Caught square in the sights of this neutering of country's vigor was shaggy songwriter Willie Nelson, who provided several of the biggest early countrypolitan hits ("Crazy," "The Night Life", etc.) but who famously chafed against the Nashville studio system when he was first trying to make it as a solo performer. Willie rebelled and left Nashville for Austin, and thus the outlaw legend was made. Now, four decades later, Nelson revisits the recordings that originally drove him away from Music City, taking the very same RCA sessions that he felt ruined his music and deconstructing them, stripping back the layers to get back at the essence of sound. It's a very interesting project, revitalizing several long-lost songs from the mid-1960s, while underscoring the innate silliness of the so-called "Nashville Sound." What's missing in this package, unfortunately, are the original studio releases, so that we can really hear what happened to these songs after they left Nelson's control. Those collectors who are fortunate enough to own the old LPs or the handful of reissues that include those tracks will enjoy a giggle or two as they compare and contrast -- less fortunate listeners will just be grateful for the chance to hear a bunch of "new" Willie Nelson songs, rescued from the vaults after all these years.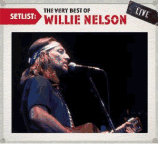 Willie Nelson "Setlist: The Very Best Of Willie Nelson" (RCA-Columbia Legacy, 2010)



I'm not sure how you'd actually quantify this, but I think it's possible that lanky, grizzled road warrior Willie Nelson may have logged more time on tour than anyone in the history of the universe. He certainly has recorded a lot of great concert material, as heard on this sampler of live tracks from his tenures at RCA and Columbia. The early stuff on RCA sounds a bit dubious, i.e. fake-live, but that stuff from the '70s sure sounds nice, back when he was at his Waylon-and-Willie, on-the-road-again best. Like other volumes in the "Setlist" series, this might not add much for longtime fans who are already familiar with the artist's classic recordings, but as an introductory album, it's pretty sweet.
---
Links
---
Willie's website has tour info and merch galore, along with a daily tour blog, called the Pedernales Poo Poo... When I poked around it had some funky technical glitches, but I'm sure that's just par for the course in Willie-land. I guess he has a lot of fans in Germany, too, because the site is mirrored auf Deutsch.
Rolling Stone has an excellent biographical essay on Willie and his outlaw scene...
Thanks to Live By Request for posting their groovy Willie discography page. This was really helpful, particularly for tracking down some of the older, out-of-print albums.
---
Willie Nelson: The 1960s & '70s | 1980s | 1990s & '00s | Best-Ofs & Links

---



Hick Music Index


---
Top photo credit: Rahav Segev, courtesy of Lost Highway Records.
---