<! cd = 10/11/10 > <! MP3 10/11/10 > <! update 10/11/10 > <! outside 10/11/10 > <! pix 00/00/00 > <! 208-pix: 00/00/00 > <! icons 10/11/10 >
---
Juice Newton was one of the big pop-country stars of the early 1980s, injecting a bit of bubblygummy bounce into the mix. Can't say as I remember more than a tune or two from her career, but she was big at the time. Here's a quick look at her work...
---
Discography - Best-Ofs
---
Juice Newton & Silver Spur "The Early Years" (RCA, 1992)


New Jersey born and Virginia bred, bandleader Juice Newton took a long time to make it big, and RCA was the first label to get a piece of her... This disc reissues a batch of tunes recorded in 1975-76, a full five years before she cracked into the mainstream with her 1981 version of Chip Taylor's "Angel Of The Morning," and her subsequent string of early '80s hits. At this point she definitely sounded second-string, very much like one of those warbly gals who would wind up in an "outlaw" country movie, singing R&B-tinged country-rock while Willie Nelson chatted with someone back in the booths. Still, some of these songs are kinda fun, in an awkward kinda way. The single, "Love Is A Word," which barely cracked the Top 100, has a charmingly dopey, sunshine-country perkiness to it, and her original version of "The Sweetest Thing" (later her first #1 hit) is a pretty nice ballad. About half these early songs were written by Otha Young, who continued to be Newton's key collaborator, even after the collapse of the original Silver Spur band. This disc is by no measure great country music, but it's a nice footnote for Newton fans, and a genuine relic of the scrappier side of the 'Seventies country scene.
Juice Newton "Greatest Hits (And More)" (Capitol-Liberty, 1990)



It was on Capitol that Newton finally hit her stride, with major hits like "Angel Of The Morning," "Queen Of Hearts," "Break It To Me Gently" and "Break It To Me Gently," all of which appear here...
Juice Newton "Greatest Hits" (EMI, 1991)


This is the same material, just less of it...
Juice Newton "Juice/Quiet Lies" (Raven, 2006)



A twofer reissue of two early albums, Juice and Quiet Lies, re-released on one of the world's quality reissue labels... If you're a Juice Newton fan, this disc is worth tracking down.
Juice Newton "Old Flame/Dirty Looks" (Raven, 2007)

---
Discography - Albums
---
Juice Newton & Silver Spur "Juice Newton & Silver Spur" (RCA, 1975)


Juice Newton & Silver Spur "After The Dust Settles" (RCA, 1976)


Juice Newton "Come To Me" (Capitol, 1977) (LP)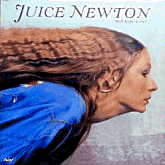 Juice Newton "Well Kept Secret" (Capitol, 1978) (LP)


Omigawd. Is this the worst album art ever? Well, if not, it's pretty damn close... What were they thinking?
Juice Newton "Take Heart" (Capitol, 1979) (LP)

Juice Newton "Juice" (Capitol, 1981)


Juice Newton "Quiet Lies" (Capitol, 1982)


Juice Newton "Dirty Looks" (Capitol, 1983)

Juice Newton "Can't Wait All Night" (RCA, 1984)


Juice Newton "Old Flame" (RCA, 1985)


Juice Newton "Emotion" (RCA, 1987)

Juice Newton "Ain't Gonna Cry" (RCA, 1989)

Juice Newton "American Girl" (Renaissance, 1999)

Juice Newton "American Girl, v.2" (2003)


Juice Newton "The Gift Of Christmas" (2007)


---
Links
---
---