<! MP3 09/12/08, 11/24/09 > <! update 09/12/08 > <! pix 11/24/09 > <! icons 01/24/11 >

---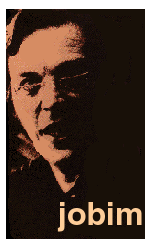 This is Page Two of an opinionated discography of Brazilian composer Antonio Carlos ("Tom") Jobim (1925-1994). This page looks at his best-of collections and various tributes, related projects and links to other webpages of interest. Jobim's individual original albums are reviewed on the first page of this discography.
---
Jobim Discography: Best-Ofs | Albums
---

Antonio Carlos Jobim "A Arte De Antonio Carlos Jobim" (Phillips, 1975)



For many years this 2-LP set was the standard Jobim best-of collection for North American audiences, and while subsequent CD reissues included a few less tracks, the original 1964-74 set list pretty much remained intact... This highlights Jobim in a variety of styles, although it's predominantly rather cheesy and Muzak-ish... This collection, of course, only includes material from records which fell within the ownership of the Polygram/Universal cartel... For samples of his work on other labels, the discs listed below may be helpful...

Antonio Carlos Jobim "Antonio Carlos Jobim: Composer" (Warner Archives, 1995)



A strong set collecting material from his Discovery label and Reprise albums of the mid-'60s. The entire Wonderful World Of... album makes up the first half of this disc, and the rest of the disc is split between songs from three other albums. Some tracks dip into vocal Sinatra-isms, but on the whole this gives a pretty favorable impression of Jobim during his most accessible period. At 28 tracks total, and budget priced to boot, this is a pretty good deal, especially considering that three of the tracks are studio outtakes.
Antonio Carlos Jobim & Miucha "Man From Ipanema" (Verve, 1995)



A 3-CD retrospective, including material recorded with Elis Regina and Miucha.

Antonio Carlos Jobim & Miucha "Focus: O Essential De..." (BMG, 1998)


A surprisingly strong disc, featuring some of Jobim's most understated work -- perhaps not as sublime as his 1974 collaboration with Elis Regina, but continuing along in the same vein. The second wife of Joao Gilberto, Miucha's vocals were variable, but at her best she proves a very able, jazz-oriented vocalist -- imagine Maria Bethania without the stridency, or Gal Costa with more consistent delivery. Admittedly she coouldn't muster the same power as any of the better-known MPB divas, but she does achieve a workmanlike grace, and is ably complimented by Jobim's pleasantly light touch. Miucha's teenage daughter, Bebel Gilberto, chirps along on a version of Chico Buarque's "Calice," originally from the 1978 album, Miucha...
Antonio Carlos Jobim & Miucha "Antonio Carlos Jobim & Miucha" (Iris Musique, 1994)

Antonio Carlos Jobim "Jazz 'Round Midnight" (Verve, 1998)


Antonio Carlos Jobim "Antonio Carlos Jobim's Finest Hour" (Verve, 2000)


Antonio Carlos Jobim "Fotografia: Os Anos Dourados De Tom Jobim" (Universal, 2005)



A 2-CD set...
---
Tributes
---

Dorival Caymmi "Caymmi Visita Tom" (Elenco, 1964)



Caymmi covers Jobim tunes, with accompaniment by his kids, including Nana, who sings several songs. Overall, this is a mixed album, equal parts sappiness and class. The best tracks are the ones Papa Caymmi sings on, the worst are the instrumentals, which showcase Dori and Danilo Caymmi on guitar and flute.

Gal Costa "Gal Canta Tom Jobim -- Ao Vivo" (BMG Brazil, 1999)



A 2-CD live tribute by MPB star Gal Costa.

Ella Fitzgerald "Ella Abraca Jobim - The Antonio Carlos Jobim Songbook " (Pablo, 1980)



A soft-fusion jazz take on the works of pioneering Brazilian bossa nova composer Antonio Carlos Jobim... Originally issued as a double LP, this set is vintage early-80s Fitzgerald, with Ella throwing herself into the songs wholeheartedly, despite the somewhat cloying and cluttered, too-smooth performances of the band. Jazz cats Alex Acuna, Oscar Castro Neves, Paulinho Da Costa, Clark Terry and Toots Thielemans are among the heavy-hitters who back her up... The album as a whole is a bit busy, but the English translations are kinda nice, as are Ella's game attempts at singing in Portuguese (she does alright, though her accent is irrevocably tempered by learning Spanish first...) Both Ella and Jobim have had better days, but this still has some nice moments, and even a few surprises.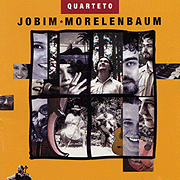 Quarteto Jobim-Morelenbaum "Quarteto Jobim-Morelenbaum" (Velas, 2000)



A sweet tribute to Jobim which features his son, grandson, and Jobim's former cellist and bandleader Jaques Morelenbaum, as well as Paula Morelenbaum, who serves as the group's chanteuse, trading vocal duties with the Jobim lads. Spanning the breadth of Jobim's career, these songs are fairly standard bossa fare, but nice and pleasant... Morelenbaum -- one of the most well-rounded musicians imaginable -- is capable of moodier, more mysterious, arrangements, but I guess he didn't feel that was his job in this instance... But I'm not complaining... this is a pretty solid record. By the way, if you have the chance to see this ensemble perform, don't hesitate -- they are even more ethereal and sublime live!

Various Artists "A TRIBUTE TO ANTONIO CARLOS JOBIM" (XIII Bis, 1997)


Fun stuff. This mostly-European, mostly-French, indie-rock tribute album has several highlights, including a witty rendition of "Girl From Ipanema" by Japan's Pizzicato 5, and a healthy dose of Franco-fied versions of Jobim's bossa standards. Anyone approaching this disc who is familiar with the plenitude of reverential Brazilian versions of these old classics will be struck by the varied and refreshingly new takes on such well-worn material. Swedish rocker Ray Wonder gets major points for his playful, lavishly layered, electric-guitar heavy version of "One Note Samba"; similarly the surf/spy guitars on Tango & Lee Marr's "Agua de Beber" are an unlikely and quite pleasant twist, and Sean O'Hagan (Stereolab, High Llamas) gets in some nice licks as well. Interestingly enough, the British contributions to this project more often than not fall a bit flat -- although Stuart Moxham has a tasteful turn, other tracks by the Walkabouts and John Cunningham are less interesting. In the main, though, this disc is full of rewarding material. If you're ready for a little playful tweaking on the Jobim canon, check this one out!
Various Artists "ANTONIO CARLOS JOBIM SONGBOOK v.1" (Lumiar, 1996)



Includes Carlos Lyra, Edu Lobo, Miucha, Johnny Alf, Quarteto Em Cy, Leny Andrade, and Joao Donato.
Various Artists "ANTONIO CARLOS JOBIM SONGBOOK v.2" (Lumiar, 1996)



Includes Os Cariocas, Joyce, Leny Andrade, Nana Caymmi, Wanda de Sa, Roberto Menescal, Pery Ribeiro, and Nelson Ayres.
Various Artists "ANTONIO CARLOS JOBIM SONGBOOK v.3" (Lumiar, 1996)



Includes Marcos Valle, Edu Lobo, MPB 4, and Sergio Ricardo.
Various Artists "ANTONIO CARLOS JOBIM SONGBOOK v.4" (Lumiar, 1996)



Includes Hermeto Pascoal, Joyce, Elba Ramalho, Joao Bosco, Leila Pinheiro, Roberto Menescal, and Beth Carvalho.
Various Artists "ANTONIO CARLOS JOBIM SONGBOOK v.5" (Lumiar, 1996)
Includes Hermeto Pascoal, Jane Duboc, Chico Buarque, Ed Motta, Leny Andrade and Cristova Bastos, Alaide Costa, and Toninho Horta.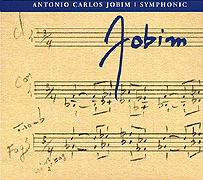 Antonio Carlos Jobim (composer) "Symphonic Jobim" (Adventure Music, 2005)


Grand, romantic treatments of various Jobim classics such as "A Felicidade" and a number of lesser-known works, including some early compositions from the 1950s that had gone unrecorded until this album. The Orquestra Sinfonica do Estado de Sao Paulo, conducted by Roberto Minezuk, slide gracefully through this 2-CD live set, with arrangements by Jobim, Dori Caymmi, Eumir Deodato, Claus Ogerman, Nelson Riddle, and the project's producers, Paulo Jobim and Mario Adnet. Milton Nascimento contributes vocals on two songs, "Matita Pere" and "So Todos Fossem Iguais Voce," and his performances actually provide an emotional core to the concert. These symphonic renditions may be a bit florid and formal, but it is nice to hear Jobim's work in a new context; the reverent audience in Sao Paulo certainly shows there was plenty of hometown enthusiasm... Worth checking out, though you may not find it as overtly sensuous or cool as Jobim's classic bossa nova recordings.
Antonio Carlos Jobim/Various Artists "Brasileiro" (Universal, 2005)


A 8-CD set...


<! Tracks: (Disc 1) 1 - Ai quem me dera ; 2 - Pra dizer adeus ; 3 - Chovendo na roseira (com edu lobo) ; 4 - Moto continuo ; 5 - Angela ; 6 - Luiza ; 7 - Cancao do amanhecer ; 8 - Vento bravo ; 9 - E preciso dizer adeus ; 10 - Canto triste ; (Disc 2) 1 - Aguas de marco ; 2 - Pois e ; 3 - So tinha de ser com voce ; 4 - Modinha ; 5 - Triste ; 6 - Corcovado ; 7 - O que tinha de ser ; 8 - Retrato em branco e preto ; 9 - Brigas nunca mais ; 10 - Por toda a minha vida ; 11 - Fotografia ; 12 - Soneto da separacao ; 13 - Chovendo na roseira ; 14 - Inutil paisagem ; (Disc 3) 1 - Aguas de marco ; 2 - Ana luiza ; 3 - Matita do mar ; 4 - Tempo do mar ; 5 - The mantiqueira range ; 6 - Cronica da casa assassinada (trem para cordisburgo / chora coracao / o jardim abandonado / milagre e ; 7 - Rancho das nuvens ; 8 - Nuvens douradas ; (Disc 4) 1 - Das rosas (dorival caymmi) ; 2 - So tinha que ser com voce (tom jobim) ; 3 - Inutil paisagem (nana caymmi e dorival caymmi) ; 4 - Vai de vez (conjunto) ; 5 - Cancao da noiva (stela caymmi) ; 6 - Saudae da bahia (dorival caymmi e tom jobim) ; 7 - Tristeza de nos dois (nana caymmi) ; 8 - Berimbau (conjunto) ; 9 - Sem voce (nana caymmi) ; (Disc 5) 1 - Noite dos mascarados - elis regina e chico buarque ; 2 - Lamento no morro - nara leao ; 3 - Surfboard - orquestra ; 4 - Ela e carioca - tamba trio ; 5 - Paema dos olhos da amada - vinicius de moraes ; 6 - A queda - orquestra ; 7 - Tema de abertura (garota de ipanema) - orquestra ; 8 - Por voce - ronnie von ; 9 - Chorinho - chico buarque ; 10 - Aria para se morrer de amor - baden powell ; 11 - Rancho das namoradas - quarteto em cy e mpb4 ; 12 - Tema da desilusao (garota de ipanema) - orquestra ; (Disc 6) 1 - Eu sei que vou te amar - caetano veloso ; 2 - Ela e carioca - os cariocas ; 3 - Ligia - chico buarque ; 4 - So danco samba - joao donato ; 5 - Tema de amor de gabriela - mey matogrosso ; 6 - Samba de uma nota so - baden powell e jimmy pratt ; 7 - So tinha de ser com voce (ao vivo) - pedro marian >

---
Other Media
---
Tom Jobim/Vinicius De Moraes/Toquinho/Miucha "Musicalmente Dallo Studio 3" (DVD) (1978?)


An hour-long, all-star concert filmed for Italian TV in the late '70s (October 18, 1978, to be precise, for an appreciative audience in Lugano, Switzerland...) The show was held in honor of songwriter Vinicius De Moraes, who acts as emcee, cigarette and bourbon both firmly in hand. The entire affair is a bit low-key and sedate, in part because of the demure studio audience, but also because Vinicius seems a bit detatched and diminished, not really cutting loose until the final medley. To his credit, Toquinho injects a fair amount of life into the show, even though Jobim and Miucha also both seem a bit uncomfortable and reserved. Still, what a great chance to see all these bossa-MPB heavyweights in action, and to hear them address the crowd in Italian, no less. Worth checking out, but don't get your hopes up too high. (Subtitles in English, Spanish and Portuguese.)
Tom Jobim "Tom Jobim & Friends: A Tribute" (DVD) (Immortal, 1995)

Tom Jobim "Live At The Montreal Jazz Festival" (DVD) (DRG Records, 2007)

Tom Jobim "A Casa Do Tom: Mundo, Monde, Mondo" (DVD) (Biscoito Fino, 2007)


Directed by Ana Jobim.


<! 2003? >

Tom Jobim "Maestro Soberano" (DVD) (2007)

---
Links
---
---



---