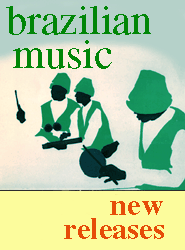 ---
Welcome to the Slipcue.Com page for new Brazilian music. This page includes reviews of new albums, recently released reissue records, and links to profiles of select record labels and artists.
---
New Releases Archive: Ano 2001 Index
---
Vinicius Cantuaria "Vinicius" (Transparent Music, 2001)


A superior songwriter and subtle multi-instrumentalist, Vinicius Cantuaria found acclaim in the 1970s as a key member of Caetano Veloso's touring band. Since then he has relocated to New York City, and established himself as part of the East Coast's nova bossa nova scene. On first blush, this gentle, quiet album may seem like a disappointment to those of us expecting an ornate followup to the lavish melodic intricacies of his last two albums. The spare accompaniment by Bill Frisell and fellow NY scenesters has a commercial jazz sheen that make be difficult to get past -- the guitar and bass tones in particular bring the Pat Metheney aesthetic to mind. But this is a restrained album which yields its charm slowly. As ever, Cantuaria is a superior songwriter, and once you get on his wavelength, the overly-familiar gloss of the production becomes less and less of a distraction. Caetano Veloso, David Byrne, Marc Ribot, Joey Baron, Peter Scherer, and others all chip in... it's a class act, and fans are urged to check it out.
Ana Carolina "Ana, Rita, Joana, Iracema E Carolina" (BMG, 2001)


Several Slipcue readers have written to recommend this gal, usually in comparison to Marisa Monte, another multi-facted, multigenre diva. I can see where the comparison stems from -- on the surface Carolina does indeed share some characteristics with Monte, particularly the mix of electronica-tinged modern rock and slightly-rappy soul singing. But Carolina's sound pales in comparison -- her arrangements are too stereotyped and predictable, and the band frequently overplays, particularly the piercing, irritating electric guitars. Can't say I'm that into her voice, either -- a husky, brusque, throaty style, similar in some ways to Maria Bethania, though without much of Bethania's subtlety. This album is okay; if you're looking for something new and relatively inventive, along the lines of Adriana Calcanhotto, Lenine or Marisa Monte, this might fit the bill... But in the long run it didn't really hold my attention...
Dorival Caymmi "Caymmi - Amor E Mar" (EMI, 2001)


A sweeping 7-CD set that reissues twelve albums by one of the most revered early samba cancao artists. Dating back to the mid-'50s, and working up to his early '70s material with his children, this selection omits his mid-'60s Elenco albums (which are now part of the PolyGram catalog) and late-'60s material on RCA, but skips over to include some of the early Famalia Caymmi efforts. An additional CD's worth of cover tunes is also included, with versions of Caymmi's best-known material recorded by artists such as Joao Donato, Dick Farney, Elza Soares, Orlando Silva, and Clara Nunes. It's a pretty awesome collection, full of bonus tracks as well as a fab booklet filled with great info and several cool archival photos. Highly recommended, especially for anyone for an interest in pre-bossa nova Brazilian pop.
Dick Farney "Copacabana" (Revivendo, 2001)


An absolute delight! With a recording career spanning back to 1939, moon-June crooner Dick Farney openly emulated the stylings of North American pop vocalists such as Frank Sinatra, and pioneered Brazil's non-samba pop scene. He was widely revered by the postwar generation, but despite his immense pre-bossa popularity, his earliest music remained hard to track down... until now, that is! This is an outstanding glimpse at Farney during his golden years, from 1946-1952, and it goes a long way to explain Farney's enduring mystique. Although his connection with the Brazilian branch of the Frank Sinatra Fan Club is the stuff of affectionate myth, on this chronologically-arranged disc you can trace his transition from a Bing Crosby devotee into a Sinatra-esque stylist. Both modes are a delight. This album is highly recommended -- another one of Revivendo's real gems!
Gilberto Gil "Sao Joao Vivo" (Warner, 2001)


An excellent live album which highlights Gilberto's enduring passion for Northeastern forro music... This concert luxuriates in Gil's classic mid-'70s material from the Refrazenda album, which was some of the best work he ever did.. and still sounds great today. The band is really sharp -- faithful to the original arrangements, but still fresh and exciting, as if their hearts were really in it. Gil sounds like he's having fun, too, and the feeling is contagious. A really nice record... highly recommended!
Dona Ivone Lara "Nasci Pra Sonhar" (Lusafrica, 2001)


Solid acoustic sambas, written and performed by one of the great composers of the early '70s pagode boom... Many of Dona Ivone's songs were recorded by Clara Nunes, the queen of the samba singers, and the Gal Costa/Maria Bethania version of "Sohno Meu" is an enduring classic. Decades into her career, Dona Ivone still proves a powerful, soulful performer, and the lovely old-school arrangements are effective and pleasantly restrained. It's fitting that Cesaria Evora's label should put this album out, as in her later years, Lara has taken on a similar gravitas... Perhaps not as bouyant as her classic '70s recordings, but still very, very nice. An impressive modern entry by this well-respected old-timer.
Otto "Condom Black" (Trama Music, 2001)


Otto gets a bit spacier and mellower on this disc, in some ways perhaps less "electronic", but still kinda cool. He even does a bit of more or less straight-up shoegazer electric guitar pop, and sings on hseveral songs. I can't say that this album leapt out at me the way the best tracks on Samba Pra Burro did, but it's certainly easy on the ears and worth checking out if you want something kinda mellow to listen to. (By the way, I know that Beto Lee, who pitches in on this album, is Rita Lee's song... does anyone know if Valmir Gil, who also plays on this album, is related to Gilberto?)
Flora Purim "Perpetual Emotion" (Narada Jazz, 2001)


A pretty solid release, in the slick "dinner jazz" style, but performed with more conviction and oompf than most new commercial jazz albums. Mostly too smooth for my tastes, but you can tell she's better at this stuff than most. Oscar Castro Neves and Airto join in for that good old Brazilian continuity. Some of the English-language lyrics are kinda goopy and New age-ish, but when she sings in Portuguese, it sounds more natural and intriguing.
Moreno Veloso +2 "Music Typewriter" (Natasha/Hannibal, 2001)


First things first: Moreno Veloso does bear a striking -- even eerie -- vocal and stylistic likeness to his father, the patron saint of tropicalia. Playing ping-pong balls and toy pianos on some tracks, Moreno shows a playful, adventurous streak that is also very similar, although the younger Veloso brings a subtle modernism to bear on these recordings, using electronica production with perhaps greater panache than his well-known dad. In this regard he's closer in creative temprament to art-rocker Arto Lindsay than to Caetano, who in the past has let the glitziness of new technology get the better of him. Accompanied on a few tracks by bossa progeny Daniel Jobim, and on others by his pals Kassin and Domenico ("+2"), Moreno casts his net softly, recalling his father's calmest albums from the mid-1970s. With production assist by Chico Neves, one of the most prominent alternative rockers in Brazil, Veloso creates the kind of "world music" that isn't meant to be pumped out of the speakers at the local Starbuck's -- instead, it should be savored slowly at home. This is one of the best Brazilian pop records to come out in a long, long time & is highly recommended. Check it out!
---
New Compilations
---
Various Artists "BRAZIL '70s v.1: THIRTEEN LATIN-JAZZ AND BOSSA NOVA TRACKS" Various Artists "BRAZIL '70s v.2: TWELVE SAMBA-FUNK AND BOSSA NOVA TRACKS" (Superclasse, 2001)
The Seventies are back with a vengance on these idiosyncratically-selected, fusion-heavy, occasionally disco-y collections. Actually, on a couple of tracks the first disc dips back into '60s turf, with a nod towards Joao Donato; the second volume gingerly stretches into the early '80s to include some later material by Tim Maia. In between, there's plenty of slick material, including tracks by the likes of Dave Grusin and Sergio Mendes, as well as nuggets such as Gerson King Combo's "Swing Do Rei" (still out of print!) and Miriam Makeba (of all people!!) covering Jorge Ben's sly materpiece, "Xica Da Silva." If you like the SOUL SAMBA '70s collection, this retro set might also be right up your alley!
Various Artists "CAPOEIRA MATA UM: THE RHYTHM OF BAHIA/THE SOUND OF THE WORLD" (Tropical Music, 2001)


A strikingly varied set of songs based on the beat and boing-boing-boing of Bahia's homegrown martial arts form, capoeira. This is a much richer and more melodic set than most capoeira albums, which tend to stick to the rhythms and can get a little repetitious. Here, by contrast, artists from throughout the world modernize and play around with this distinctive sound -- there's fairly traditional material, mixed in with funk, samba, techno and pop stylizations... there's even one improbable free jazz track! This album is both challenging and a lulling delight to hear... Recommended!
Various Artists "ROUGH GUIDE TO SAMBA" (World Music Network, 2002)


An excellent collection, beautifully sequenced, which covers a wide swath of modern samba artists, mainly folks such as Monarco, Cartola, Bezerra Da Silva, Nelson Sargento and Leci Brandao, who are connected either to the various samba schools or to the post-'60s acoustic samba revival. There are also a fair number of more obscure artists, which is quite welcome as far as I'm concerned. The album flows well; the only jarring moment comes with an intrusively loud, brash hip-hoppish track by Luciana Mello, which comes at the very end. Skip that one, and this disc is a gem.
Various Artists "SAMBA SOUL '70" (Ziriguiboom/Six Degrees, 2001)


A pretty sweet set, and probably the best collection of Brazilian soul we're likely to see up in the States for some time to come. Apparently these guys didn't have access to the full Philips-PolyGram catalog, so there are major omissions - Tim Maia, Gershon King and Jorge Ben, to name a few - but what's in here is pretty tasty. The disc's major coup is the inclusion of Wilson Simonal's super-swinging "Nao Vem Que Nao Tem," a hip, Ray Charles-style zinger from the mid-'60s which mysteriously has never been included on any of Simonal's own best-ofs... There are also plenty of other rarities and odd inclusions (such as a funky disco-era track by former jovem guarda teen queen, Wanderlea...) along with staples of the samba-soul scene like Banda Black Rio, Dom Salvador and Trio Mocoto. The slant of this collection is somewhat lounge-y and acid-jazz-ish -- not as all-out disco or as sappy and Philly-Sound as it might have been. Overall it's pretty breezy and fun. It also has several impossible-to-find songs on it... Worth checking out!
---



Recent World Music
Brazilian Music Guide



---
Copyright 1998-2006 Slipcue.Com. All Rights Reserved.
Unauthorized use, reproduction or translation is prohibited.
---