<! MP3 12/17/08, 11/07/09, 01/20/11, 03/06/12 > <! pix 11/07/09, 03/06/12 > <! ALLBM 12/17/08 > <! icons 01/20/11 > <! UPDATES: 12/17/08, 03/06/12 > 07/02/12 - got info for Amelinha discography - need to add it later >
---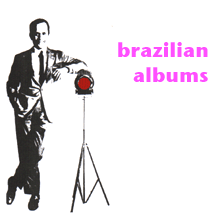 This is Page 3 of a listing of miscellaneous albums and artists under the letter "A"
If an artist or album you like is not reviewed here, please feel free
to contact me and make a suggestion.
---
A-1 / 2 / 3 / 4 | B | C | D | E | F | G | H | I | J | K | L | M | N | O | P | Q | R | S | T | U | V | W | X | Y | Z | Compilations
Brazilian Styles | 30 Recommended Records | Portuguese-language pop | Brazilian Links | Slipcue.Com
---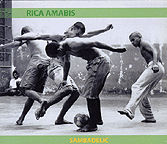 Amabis "Memorias Luso/Africanas" (Mais Um Discos, 2013)



(Produced by Gui Amabis)
The first solo album by multi-instrumentalist Gui Amabis, who is best known for his work as the producer of two albums by vocalist CeU. She appears on this album, as well as Lucas Santtana and others...


<! Amabis' debut solo album "Memorias Luso/Africanas" features a stellar cast of Brazilian vocalists such as Lucas Santtana, Criolo, Ceu, Tulipa, and Tigana Santana. The album narrates his ancestor's history of moving to Brazil and how that suffering affected them: "The songs mirror what I feel genetically and culturally" he says. A multi-instrumentalist, on "Memorias Luso/Africanas" Amabis plays keys, bass and guitar, programs samples, effects and sings. Mostly known for his production work - famously on Ceu's acclaimed second and third albums "Vagarosa" and "Caravana Sereia Bloom", Amabis has also worked on soundtracks for both Brazilian TV ("City of Men") and Hollywood ("Lord of War", "Collateral") and is an in-demand musician who's featured on records by Rodrigo Campos, Curumin and Lucas Santtana. Alongside Céu, Rica Amabis and Dengue and Pupillo (Nacao Zumbi) he recorded "Sonantes", released by Six Degrees in 2007. >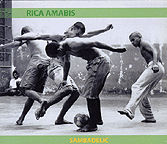 Rica Amabis "Sambadelic" (YBrazil?, 2000)



(Produced by Mauricio Tagliari)
Electronica and DJ mixing have taken firm root in Brazil, echoing the mix-and-match syncretism that inspired the tropicalia scene back in the late '60s. The classics of multiple genres -- including old tropicalia -- now provide rich fodder for remixes and radical reworkings, as this new disc demonstrates. Forro legend Luiz Gonzaga, funk pioneer Tim Maia, old-school sambista Ataulfo Alves and the classic "A Falsa Baiana" all wind up in the mix here, as singer Andrea Marquee and a slew of Paulista compatriots pitch in. Overall the drum'n'bass based mixing seems a little rigid, though even with the lack of flow there are some surprising moments. For those looking for more examples of contemporary mixing to join the few records to hit our shores -- such as Suba, Otto and Bebel Gilberto -- this disc is certainly worth checking out.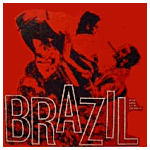 Nestor Amaral "Brazil" (Golden Tone) (LP)


A Brazilian native who found success abroad, guitarist Nestor Amaral came to the United States as the musical director for Carmen Miranda's Banda Na Lua, and appeared in several films with Miranda. Amaral became one of Hollywood's go-to men for Latin music in film scores, including movies such as Hollywood In Havana and The Three Caballeros. He recorded several budget-line albums as a bandleader, including this one and several others with non-Brazilian themes.
Nestor Amaral "Holiday In Brazil" (Golden Tone) (LP)

Nestor Amaral "Holiday In France" (Tops) (LP)





<! NESTOR AMARAL Nestor was music director for Carmen Miranda for many years. He had also an important collaboration and partnership with Laurindo Almeida, they worked together on Radio and Laurindo considers Nestor as one of the best voices and guitar players of that time. Nestor Amaral and His Continentals "Brazil" (Golden Tone, 1957), 10', (USA) >

Odette Amaral "A Tropicalissima" (Olympic) (LP)
(Produced by Nelson Trigueiro)





Rodrigo Amarante "Cavalo" (Mais Um Discos, 2014)







<! Rodrigo Amarante is an inescapable musical figure in Brazil. Songwriter and multi-instrumentalist, he is one of the masterminds of the band Los Hermanos, a founding member of the samba super-group Orquestra Imperial and has collaborated with Brazilian icons such as Tom Zé, Gilberto Gil and Marisa Monte. In Europe and the United States he has enjoyed success with Little Joy (the band he formed with Fabrizio Moretti from The Strokes and Binki Shapiro), whose eponymous album was released worldwide in 2009 via Rough Trade. Having played shows across the globe last year opening for Devendra Banhart (with whom he has been recording and playing live since 2007), Rodrigo Amarante will release his first solo album 'Cavalo' through Mais Um Discos/Kartel worldwide on April 28th 2014. >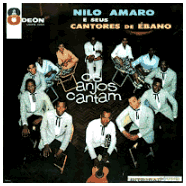 Nilo Amaro & Seus Cantores De Ebano "Os Anjos Cantam" (Odeon, 1962) (LP) <! year? >


A very unusual album, capturing some of the '60s musical crosscurrents that aren't usually associated with Brazilian pop. This cheerful vocal chorus, under the direction on arranger Nilo Amaro, combined North American-style gospel/chorale and Greenwich Village folk with a subtle undercurrent of Brazilian samba, and a teeny smidge of teenybopper rock-pop... At times the female voices remind me of the crystalline-toned Trio Esperanca, although the repertoire goes off in some odd, interesting tangents. The group spotlighted their basso profondo baritone, Noriel Vilela, who later went solo during the samba-rock scene and is best known for his swinging version of "Sixteen Tons"; he isn't the only soloist here, though, but you can see why he might have wanted to bust loose from this sometimes-churchy ensemble. Intriguing material... Probably not for everyone, but still kind of unique.
Nilo Amaro & Seus Cantores De Ebano "Os Anjos Cantam, v.2" (Odeon, 1963)

Nilo Amaro & Seus Cantores De Ebano "Quase Um Sonho" (Odeon, 1964)

Nilo Amaro & Seus Cantores De Ebano "Raizes" (Polyfar, 1980)

Nilo Amaro & Seus Cantores De Ebano "20 Super Sucessos" (EMI, 2007)


A best-of set, gathering a generous selection of material by this 1960s vocal group...


<! Nilo Amaro "Os Anjos Cantam" (Odeon, 1962) Nilo Amaro "Os Anjos Cantam, v.2" (Odeon, 1963) Nilo Amaro "Quase Um Sonho" (Odeon, 1964) Nilo Amaro "Raizes" (Polyfar, 1980) date? (1980) with vocal arrangements by Nilo Amaro, backed up by nice Brazilian musicians such as: Almir Sater (viola), Carlinhos (acoustic guitar), Cláudio Bertrami e Isaac (bass) and Bira (Percussčo). Compacto/78 rpm (1961) (canćões: A Noiva e Greenfields) http://pt.wikipedia.org/wiki/Nilo_Amaro_e_seus_Cantores_de_%C3%89bano >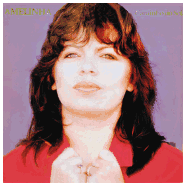 Amelinha "Caminho Do Sol" (CBS, 1985) (LP)


(Produced by Raimundo Fagner & Fausto Nilo) <! & xxxxxxxxxxxxx Falcao >
Bland, standard-issue, mainstream MPB, reminiscent of Gal Costa or perhaps more of Elba Ramalho, since she also dips into a bit of poppy forro as well. I suppose she's an okay vocalist, but the music is so generic and so '80s, with gooey "adult pop" arrangements, airy synthesizers and insincere electric guitar riffs, that the production is fairly irritating. Can't say I'd recommend it, but I'm sure she has her fans. They all do.


<! really 186 x 186 >

Marcos Amorim Trio "O Boto" (1993)







Marcos Amorim Trio "Luz Da Lua" (1998)



<! off Sete Capelas (Seven Chapels) album? >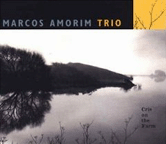 Marcos Amorim Trio "Cris On The Farm" (Adventure Music, 2003)



A mellow set of jazz/acoustic guitar work, which ranges from moments of Pat Metheny-ish echo to bouncier, Baden Powell-esque romps and quieter, more exploratatory moods. It's pretty nice. Amorim is joined by bassist Ney Conceicao and the ever-ubiquitous Robertinho Silva on percussion... A quiet, compact trio that lets the guitar stay front and center.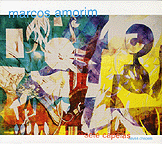 Marcos Amorim "Sete Capelas" (Adventure Music, 2006)



As a rule, I'm not a big fan of modern soft jazz, but this is quite a lovely record. Brazilian guitarist Marcos Amorim is consistently inventive and engaging on this pretty-sounding, melodically based album, crafting mellow space-out music that never lapses into pure gooeyness or by-the-numbers smooth jazz conventions. Only toward the end of the disc do a few songs get too gooey for me, but on the whole this was a very nice record to have on... Mainstream jazz fans, New Agers and new acoustic listeners will all find something to love about this album; possibly neo-folkies will as well. Worth checking out!
Marcos Amorim Trio "Portraits" (Adventure Music, 2010)



Super-gooey fusion/easy listening instrumentals, with Jorge Albuquerque on electric bass and Rafael Barata on drums. I couldn't hang with this one... It was just too goopy for me.
Pedro Amorim "Interpreta Luperce Miranda" (Buda Musique, 1995)


A tribute to the late velha guarda mandolin master, Luperce Miranda, by Pedro Amorim, of the choro revival group, O Trio.
Pedro Amorim & Maria Teresa Madeira "Sempre Nazareth" (Kuarup, 1998)






<! MTM - piano - >


Leny Andrade - see artist discography




Paulo Andre "Amazon River" (Continental, 1980) (LP)


(Produced by Joao Donato)
Absolutely dreadful. Paulo Andre Barata was a successful songwriter (notably remembered for the hit, "Foi Assim," recorded by Fafa De Belem, and included here as well) but he's a less-than inspiring singer, and this album is drenched in bland, disco-era overproduction, full of icky keyboards and glossy ornamentations. The title track, which opens the album, sounds like an overly-enthusiastic cover of the "Love Boat" theme... Things don't get much better from there. This reminds me of Marcos Valle's later work, where the tacky arrangements overwhelm almost any artistic merits the songs themselves might have had. It's really quite terrible. In addition to Joao Donato, this features contributions by Ze Roberto Bertrami (of Azimuth fame), saxophonist Nivaldo Ornellas, and other MPB/fusion mainstays... Blech!


<! 144 x 144 > <! This is Paulo Andre Barata - Amazon River (1980), for Continental, featuring compositions by Paulo Andre and his longtime partner and father, Ruy Barata. Brazilian friends will immediately remember the song 04 - Foi Assim, a blockbuster in the mid 70's and the most successful song by the Brazilian singer Fafa de Belem. This album is the best of several words, Paulo and Ruy Barata compositions, the Amazon atmosphere, arrangements by Joao Donato and a constellation of musicians in the set. Tracks include: Joao Donato (piano, arrangements, musical direction) Paulo Andre (violao) Ze Roberto Bertrami (obenhein, minimoog) Chiquito Braga (guitar, viola 12 cordas) Nivaldo Ornellas (sax, flute) Jamil Joanes, Moacyr Albuquerque (bass) Rubinho (drums) Mauro Roberto, Bira da Silva (percussion) 01 - Amazon River (Paulo André Barata / Ruy Barata) 02 - Ítaca (Memórias do Exílio) (Paulo André Barata / Ruy Barata) 03 - Noite de Paricá (Paulo André Barata / Ruy Barata) 04 - Foi Assim (Paulo André Barata / Ruy Barata) 05 - Banho de Cheiro (Paulo André Barata / Ruy Barata) 06 - Paranatinga (Paulo André Barata / Ruy Barata) 07 - Pede (Paulo André Barata / Ruy Barata) 08 - Meu Amor É Prato Cheio (Paulo André Barata / Ruy Barata) 09 - Ana Ortiz Y Castellar (Paulo André Barata / Ruy Barata) 10 - Noturno da Solidčo (Paulo André Barata / Ruy Barata) >

Miguel Angel "Samba Na Onda" (Equipe)


Nelson Angelo - see artist discography

Anjos Do Inferno "Os Grandes Sucessos" (RCA, 1963)


A wonderful twelve-song retrospective of one of the greatest vocal groups from Brazil's golden era of "radio singers" (in the 1930s and '40s). Anjos Do Inferno were one of the groups that all others were measured against, and on these lively classic recordings you can see why. This includes their creative 1947 arrangement of Ary Barroso's "Aquarele Do Brasil," along with other songs that ably showcase their tight, inventive harmonies. There is also a lot of material, particularly from the early 1950s when the group was in decline, that has a distinctly non-Brazilian feel to it: the collection opens with "Perdida," a romantic bolero that has a distinct Cuban twang to it; later, on "Tu Solo Tu," they sing a straight-up, Spanish-language, Mexican-style ranchera tune. Presumably they were in search of an audience in the Spanish-speaking world, and though they did sound great on this sort of material, they sounded a lot better singing sambas. At any rate, this is a wonderful record, and well worth picking up if you want to check out the world of pre-bossa nova Brazilian pop.


<! 144 x 144 >

Anjos Do Inferno "Brasil Pandiero" (RCA, 1963)



Anjos Do Inferno dissolved in the early 1950s, but briefly reformed to record this album. The perky arrangements are generally a bit rinky-dink, but within a song or two, the band will win you over with their smooth, good-natured approach. Side One of the original album was devoted exclusively to songs by Dorival Caymmi, the preeminent songwriter of his time, and which the Anjos originally recorded in the early 1940s. Side Two makes room for other equally groovy samba composers, with songs that also date back to the prewar years of the early 'Forties. It's quaint, and effective if you can get past the blithe, by-the-numbers feel of the orchestration.


<! 144 x 144 > <! 12/08: No additional albums on ALLBM >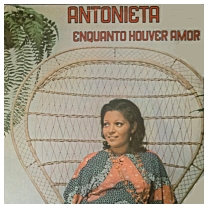 Antonieta "Enquanto Houver Amor" (Odeon, 1976)
(Produced by Milton Miranda & Miguel Plopschi)
Syrupy, emotive ballads, more in the bolero tradition than the modern Brazilian MPB style, although there are plenty of lush, elaborate orchestrations surrounding her vocals -- courtesy of arranger Geraldo Vespar -- reflecting the house style of the 1970s Odeon label. She's an okay singer, though chances are most outsiders listening to this will find it too corny or overripe -- there's stylistic similarlity to Maria Bethania, I suppose, though she has a much lighter, less grave voice than Bethania... The song selection includes one song each from Marcos Valle ("Tango") and Roberto Correa ("Meu Vicio") but for the most part these are lesser-known composers such as Chico Xavier, Alberto Gino, Roberto Koruga... Not exactly household names, though I'm sure diligent research into the sappier side of Brazilian pop would yield more info about them all. For me, this one was not a keeper.


<! 04/14 - no ASIN > <! Opening track, "Coracao, Coracao" is a translation by Lindomar Castilho of Jose Alfredo Jimenez's "Corazon, Corazon.." "Voce" is credited to (Kleber-Rosa Maria) > <! Roberto Livi co-wrote "A Agua Que Eu Jamais Ia Beber" and "executive produced" the album; Geraldo Vespar is listed as the arranger-producer >


Antonio Carlos & Jocafi - see artist discography





Arnaldo Antunes - see artist discography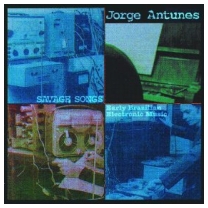 Jorge Antunes "Savage Songs -- Early Brazilian Electronic Music: 1961-1970" (Pogus, 2003)



Bleepy, bloopy, seriously old-school electronic music, the kind of stuff you'd hear in cheapo-indie sci-fi films like Dark Star, way back when. To my untrained ear, this doesn't sound that much different than similar stuff produced elsewhere -- in the USA and Europe -- but of course, that's part of the charm. Certainly worth checking out, if you enjoy this really primitive form of electronic music.
Jorge Antunes "Musica Eletroacustica: Periodo Do Pioneirismo" (2007)







Jorge Antunes "Poeticus: Obras Para Orquestra" (ABM Digital, 2010)



<! 07/13/14 - B003ZUESFK ASIN defunct >

Jorge Antunes/Various Artists "In Defense Of The Machine" (Pogus, 2013)



The music of Jorge Antunes, played by several modern electronic artists...
---
Brazilian Music - More Letter "A"
---



Main Brazil Index
World Music Index

---